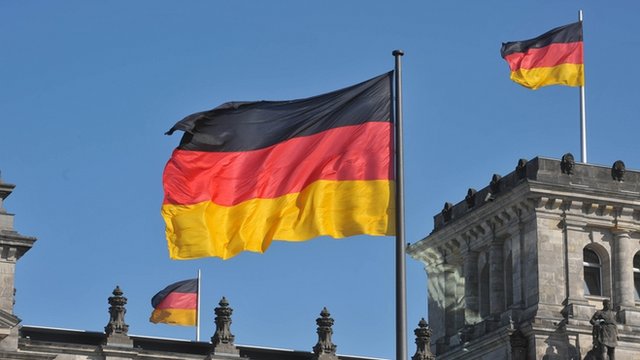 Germans have eliminated a 63-letter word, thought to be the longest in the German language, after the European Union changed regulations on the testing of cattle, according to the BBC.
The dropped word, Rindfleischetikettierungsüberwachungsaufgabenübertragungsgesetz, means "law delegating beef label monitoring." It was introduced in 1999 in the wake of the BSE crisis, or "mad cow disease." But with the EU calling a halt to the testing of healthy cattle at abattoirs (slaughterhouses), the need for the word vanished.
German Famous For Tapeworm Words
The term wasn't found in any German dictionaries, but was used in official government documents. The Germans have a history of using long, compound words known as "tapeworm" words, which are generally used to describe something legal or scientific.
According to the BBC, the longest word to be found in the Duden, or German dictionary, is Kraftfahrzeughaftpflichtversicherung, meaning "automobile liability insurance."
The search is now on for the language's new longest word. Among the contenders is said to be Donaudampfschifffahrtsgesellschaftskapitaenswitwe, meaning the "widow of a Danube steamboat company captain."
The now dead term made the English language's supercalifragilisticexpialidocious pale by comparison.
Blogging on Tapeworm Words
A blogger who uses the online name of Frau Frown found German's tapeworm words so interesting she blogged about a new one each week. Frau Frown who writes in English, speaks beginner German and speaks elementary Mandarin Chinese awarded her tapeworm word of the week once to Sonntagnachmittagsspaziergang which means "Sunday Afternoon Stroll."
German's other tapeworm words include:
Herzkreislaufwiederbelebung (heart-circle-run-again-enlivenment)

 English translation: cardiopulmonary resuscitation (CPR)

Geschwindigkeitsbegrenzung

 English translation: speed limit

Hoechsgeschwindigkeitsbegrenzung

 English translation: maximum speed limit

Hubschrauberlandeplatz

 English translation: helicopter landing pad

Rolltreppenbenutzungshinweise (rolling-stairs-use-tips)

 English translation: tips for using the escalator
About Interpreters and Translators, Inc.
iTi's dedicated and experienced team offers a wide range of multilingual solutions for domestic and global corporations in a variety of industries. Do you require translation services to enhance your global marketing and sales initiatives or interpreter services to communicate across languages? We specialize in custom language solutions and work with over 250 languages so regardless of the barrier you face, we will work together in synergy to bridge the gap to ensure success. Please feel free to contact us through a message or by calling 860-362-0812. Our offices are open 24/7/365 so we can respond immediately to your interpreting or translation needs anytime, anywhere.
Most recent update: March 29, 2022