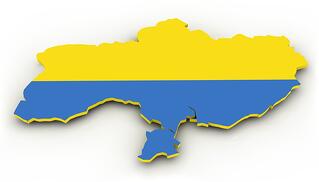 If you've studied any of the world's major languages you've probably found what we've found. We've found every language has an interesting history and an amazing story. We took a look at the Ukrainian language recently and found these fascinating facts:
 43 million people consider Ukrainian their native language. Most of them live in the Ukraine but others live in 26 countries including Russia, Belarus, Georgia, Kazakhstan, Poland, Hungary, Portugal, the United States, Argentina, China, and on and on.

Ukrainian is one of the 20 most widely spoken languages in the world.

The Ukrainian language traces its origins to the Old East Slavic language of the early medieval state of Kievan Rus'. In its earlier stages it was called Ruthenian.

Ukrainian has persisted despite several periods of bans and/or discouragement throughout centuries because it has always maintained a sufficient base among the people of Ukraine, its folklore songs, itinerant musicians, and prominent authors.

The Ukrainian language became the official state language of Ukraine on October 28, 1989, upon enactment of the Law of Ukraine on the status of the Ukrainian language.

Ukrainian is one of the official languages in Moldova and Serbia too.

Ukrainian, along with Russian and Belarusian, belongs to the East-Slavic group of the Slavic subfamily of the Indo-European family of languages.

Ukrainian, Russian, Belarusian, and Rusyn have a high degree of mutual intelligibility. Lexically, the closest to Ukrainian is Belarusian (84% of common vocabulary), followed by Polish (70%), Serbo-Croatian (68%), Slovak (66%) and Russian (62%).

The Ukrainian alphabet is based on the Cyrillic alphabet.

The modern Ukrainian literary language was formed at the end of the 18th century and at the beginning of the 19th century. Ivan Kotliarevsky and Taras Shevchenko are considered to be the founders.

The first Ukrainian grammar books and dictionaries were published between 1820 and 1840.

From 1804 until the Russian Revolution of 1917, the Ukrainian language was banned in the Russian Empire.

From 1930 through 1980 the Ukrainian language went through "Russification." Ukrainian words were replaced by Russian words. The Ukrainian grammar rules were also adapted toward Russian grammar.

In January, 2010, the Cabinet of Ministers of Ukraine (CMU) approved a new transliteration guide to transliterate the Ukrainian language into Latin letters. Text of the CMU's Resolution and transliteration table (in Ukrainian).

The modern Ukrainian language has 256,000+ words according to a Ukrainian dictionary created by the Ukrainian Lingua-Information Fund of the National Academy of Sciences of Ukraine.

The first known Ukrainian newspaper, Gazette de Leopol, appeared in print in Lviv in 1776. It was a weekly newspaper published in French.

Ukraine declared independence in 1991. Since then many Ukrainian émigrés have returned to Ukraine, particularly from central Asia and Siberia.
Thanks to language-translation-help.com and Omniglot for much of the information listed here.
About Interpreters and Translators, Inc.
iTi's dedicated and experienced team offers a wide range of multilingual solutions for domestic and global corporations in a variety of industries. Do you require translation services to enhance your global marketing and sales initiatives or interpreter services to communicate across languages? We specialize in custom language solutions and work with over 200 languages so regardless of the barrier you face, we will work together in synergy to bridge the gap to ensure success. Please feel free to contact us through a message or by calling 860-362-0812. Our offices are open 24/7/365 so we can respond immediately to your interpreting or translation needs anytime, anywhere.