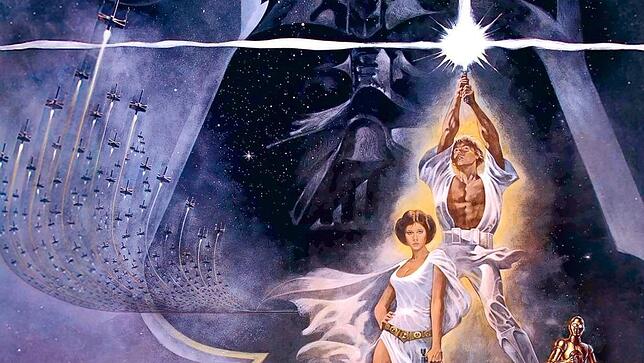 "Use the Force, Luke. Use the translation force." Those lines might have been said by Yoda if the Star Wars character knew that the 1977 U.S. science fiction movie "Star Wars: Episode IV, A New Hope" had been translated into Navajo.
The translated film with English subtitles is stopping for free screenings in places largely chosen because of their Native American populations. One stop will be the Sam Noble Oklahoma Museum of Natural History, where Mary Linn, associate curator for Native American languages, is hoping the screening will serve two audiences.
Raising Awareness of Navajo As A Thriving Language
"I want it to be a fun event for the native community – for Norman (Oklahoma) and surrounding areas – that they can come and really have fun with this movie," said Linn. "But ultimately, I want it to raise awareness for outside of the native community that these languages are thriving languages, and they can be adapted and they can be used to talk about daily life and even future life."
The Norman Transcript report says that Linn feels the Navajo language needs support. It is an endangered language but it's worth saving. The translated blockbuster movie is another way to promote the language and get people talking about it.
120,000 Navajo Speakers
The Navajo Nation has approximately 300,000 members with some 40 percent speaking the Navajo language. The Navajo Nation (Navajo: Naabeehó Bináhásdzo) is a semi-autonomous Native American-governed territory covering 27,425 square miles (71,000 km2), occupying portions of northeastern Arizona, southeastern Utah, and northwestern New Mexico. It is the largest land area assigned primarily to a Native American jurisdiction within the United States.
Mary Linn said "Star Wars" is the first major motion picture dubbed into a Native American language. The recording was done at native-owned Knifewing Studios in Gallup, New Mexico and coordinated by the Navajo Nation Parks and Recreation Department, the Navajo Nation Museum, Lucasfilm, 20th Century Fox and Deluxe.
Complex Language Spoken Only On The Reservation
The Navajo language is spoken only on the Navajo reservation in the southwestern United States, and until recently was an unwritten language. It's an extremely complex language with no alphabet or symbols. It's very reflective of the Navajo way of life and their world.  To be able to speak Navajo, one must have extensive exposure and training.
Navajo is a tonal language, meaning the vowels rise and fall when pronounced, changing meaning with pitch.  There are four separate tones of voice used: low, high, rising, and falling.  Two separate words with different meanings may therefore have the same pronunciation but with different tones.  Some Navajo words are also nasalized, meaning that the sound comes through the nose instead of the mouth.
Omnigot.com says that during the 1940s the first bilingual primers, Navajo language children's books, a modern dictionary, and a monthly newsletter were published. Unfortunately this alphabet was not popular among the Navajo, partly as a result of their anger at Collier's policies on livestock reduction, which led them to distrust his literacy drive.
Navajo Computer Fonts Revive Interest
Recently there has been a revival of interest in the Navajo language and the development of Navajo computer fonts has made it much easier to write, edit, and publish written material in Navajo.
The translated "Star Wars" debuted October 4, 2013 at Arizona State University in Tempe. The plan is to show the film in other locations in Arizona, New Mexico, Utah, Colorado, Oklahoma, California and Washington, D.C. Visit the Navajo Nation Museum's Facebook page for more information.
What do you think about saving the Navajo language? Is it important? Why or why not?