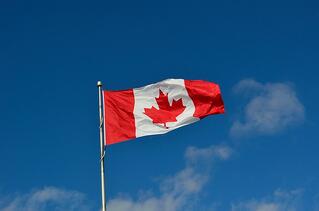 Although rates of bilingualism in Canada have been climbing over the past 20 years, Canadian taxpayers are spending $2.4 billion to provide bilingual services each year, according to a report from the Fraser Institute.  Back in 2009 those costs were $1.8 billion.
The federal government used $1.5 billion, and Canadian provinces chipped in $900 million to ensure Canadians could access services in either French or English. That breaks down to about $85 per Canadian to uphold the country's language laws.
Country Could Save By Outsourcing To Language Service Providers
The study concludes that provinces with large francophone (French-speaking) populations and a substantial number of government services provided in French could offer those services at a lower cost by contracting them out to language service providers in the private sector on a user-pay basis.
Of Canada's 10 provinces, Ontario and New Brunswick have large linguistic minorities (francophones) while Quebec has a large anglophone (English-speaking) minority. Francophone populations in the remaining seven provinces are all quite small.
Ontario spends $623 million annually – the most among all provinces – in providing services in French to its francophone minority. New Brunswick has the second largest budget for minority language services, $85 million, followed by Quebec at $50 million.
With large linguistic minorities and a substantial number of government services provided to these minorities in their native language, these three provinces could reduce the costs for taxpayers by making greater use of private language service providers for translations.
All Federal Services Must Be In French And English
English and French are recognized by the Constitution of Canada as "official languages," which means that all laws of the federal government are enacted in both English and French and that federal government services are required to be available in both languages. The five most widely-spoken non-official languages are Chinese (the home language of 2.6% of Canadians), Punjabi (0.8%), Spanish (0.7%), Italian (0.6%), and Arabic (0.5%).
Until the entire population can speak both French and English, governments must continue to provide services in both languages. Canada's Official Languages Act protects the right of all Canadians to receive services from the federal government in both official languages.
About Interpreters and Translators, Inc.
iTi's dedicated and experienced team offers a wide range of multilingual solutions for domestic and global corporations in a variety of industries. Do you require translation services to enhance your global marketing and sales initiatives or interpreter services to communicate across languages? We specialize in custom language solutions and work with over 200 languages so regardless of the barrier you face, we will work together in synergy to bridge the gap to ensure success. Please feel free to contact us through a message or by calling 860-362-0812. Our offices are open 24/7/365 so we can respond immediately to your interpreting or translation needs anytime, anywhere.