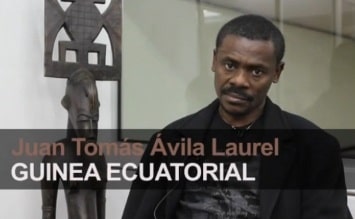 Translators perform an incredible mix of essential duties but few become a voice for a threatened world famous author. Then there's Jethro Soutar.
When Equatorial Guinean author Juan Tomas Avila Laurel faced arrest recently, Jethro Soutar became one of his voices to the world.
Juan Tomás Avila Laurel is a member of the "new" Equatorial Guinean literature movement, a generation of young authors whose first texts began to appear in the 1990s. He is considered one of the leading representatives of what has been called "New Guinean lyricism." His work is characterized by incisive criticism of the social and political realities, and the economic inequalities, in his country in particular and in Africa in general.
Book translators like Jethro spend a lot of time with book authors. The translator needs to ask a lot of questions to be certain he understands the author's intentions. The more conversation between translator and author, the more likely the translation will accurately represent the author's original ideas.
No Reliable News Outlets And Little Internet Access
The Star Online and the Guardian News & Media helped tell Jethro's story about Juan Tomas Avila Laurel. Jethro explained that there are no reliable news outlets in Equatorial Guinea. He calls the government one of the most corrupt and brutal in the world. Independent journalism of all kinds is repressed.  Most of the country is very poor with a few people at the top drowning in riches. Most people don't have access to computers. Those who do, have their internet activity monitored and censored.
Jethro translated Juan Tomas Alvila Laurel's book, By Night The Mountains Burn. The book, due out in November, tells the story of life on an island cut off from the rest of the world and starving for both food and knowledge. The setting sounds a lot like Annobon, an island off Equatorial Guinea. Annobon has little if any Internet access.
In Trouble For Writing And Demonstrating
In March 2014 Jethro heard that the Equatorial Guinean government was planning to arrest Avila Laurel. Where did Jethro turn for news about the author? The Internet. He went to Facebook where the Apoyo a Juan Tomas Avila Laurel page was set up to support a hunger strike Avila Laurel went on in 2011. Since then the page has evolved into a catch-all news and activism page for anyone interested in Equatorial Guinea.
Jethro found a number of posts about the government's plan to arrest Avila. People posted that when the government heard about plans for an "illegal" demonstration, all activists were to be rounded up by the police. Avila Laurel had been one of six signatories of a letter asking for permission to stage a sit-in at Ewaiso E'pola square, to protest against police brutality. Many messages on the site advised Avila Laurel to go into immediate hiding.
Author Reaches Out To Translator
The author didn't hide, Jethro discovered. "He can be stubborn at the best of times, never mind the worst, and he refused to be bullied into going underground when he'd done nothing wrong," wrote Jethro.
"What he did do was start sending regular text messages to friends abroad, to let them know he was still safe, and he reached out to me and to David Shook, the California-based poet who has translated his poetry."
The Book Translator's True Job?
What we find most interesting about Jethro's report is his take on translation. He says the translator's job is not just to translate a book's words. Translators must also translate cultures.
Translating a culture builds a strong relationship between a book author and the book's translator.
As Jethro writes, "You become a bridge between author and publisher, for they will not typically speak one another's language. You become informed about the author's country and circumstances, and you become well acquainted with the author, especially if you've had to ask him a lot of questions for your translation."
"You become a source of hope in times of crisis, and although you haven't asked for the responsibility, and you maybe find it daunting, you respond as best you can, because you've also become the author's friend."
Where is the line between translator and friend? When should a translator step in to help someone she's worked with? Or do you think stepping in to help is never appropriate?
About Interpreters and Translators, Inc.
iTi's dedicated and experienced team offers a wide range of multilingual solutions for domestic and global corporations in a variety of industries. Do you require translation services to enhance your global marketing and sales initiatives or interpreter services to communicate across languages? We specialize in custom language solutions and work with over 200 languages so regardless of the barrier you face, we will work together in synergy to bridge the gap to ensure success. Please feel free to contact us through a message or by calling 860-362-0812. Our offices are open 24/7/365 so we can respond immediately to your interpreting or translation needs anytime, anywhere.