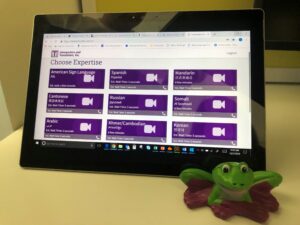 You may have heard of VRI and never understood it. If so, don't worry; we are here to help. VRI or Video Remote Interpreting is when you use a specialized video interpreting software on a tablet or laptop to provide sign language or spoken language interpreting services through a remote (offsite) interpreter.
In a typical VRI situation, the two parties who need an interpreter are together at one location with a fully secure and encrypted connection through a language service provider's VRI software.
The interpreter works from a different location. The interpreter may be in an office, a home-based studio, call center or elsewhere but he or she also uses a laptop or computer.
As you can imagine, there are countless benefits to using video remote interpreting for your language project. In this blog post we will discuss some of the benefits of using video for remote interpreting.
VRI Use Is Expanding Rapidly
It's often used in hospital emergency rooms. In an emergency room, it's essential that patients and caregivers communicate easily and quickly with medical personnel.
But what if a live interpreter can't arrive at the hospital within a few minutes? In those cases, a hospital with VRI capability can connect with a remote interpreter quickly and conduct triage and intake surveys with the patient or caregiver without delay.
It's Popular And Accessible
In recent years, video remote interpreting (VRI) has experienced a burst of popularity across several industries and is relied on each and every day for real-time communication.
With VRI, manufacturers can reduce the risk of errors in translation, and business professionals have the ability to form more meaningful relationships with their customers across different countries. If you have access to VRI, you will never have to fret about language barriers affecting communication.
Wait, there is more good news! You don't need expensive equipment or software to enjoy the benefits of VRI, you can use your own devices. Access to trained professional interpreters is one of the many benefits of using video remote interpretation.
VRI Can Save Money
Besides the immediate availability, VRI can provide, another benefit is cost savings. In most cases, VRI reduces costs when compared to having an interpreter arrive in person.
I've seen reports where organizations using video remote interpreting say they save as much as 50% over in person interpreting.
For this and other reasons, video remote interpreting is expected to grow dramatically in the coming years.
Use Over The Phone Interpreting When Appropriate
Of course, you could use also use over the phone interpreting. But with telephone interpreting, you miss out on important visual communication signals like body language and facial expressions.
iTi recommends over the phone interpreting when the communication would occur by telephone anyway. Examples are when a call center communicates with a customer and when someone calls an emergency telephone center.
We see over the phone interpreting used in many settings including government, financial services, call centers, and healthcare.
iTi | Video Remote Interpreting
Video remote interpreting can be implemented to ensure the success of a wide variety of translation projects. Whether you speak a foreign language and need to communicate with others regarding your project, or you are located far away from the translation company, video remote interpreting can help you to streamline your translation project efforts.
iTi's dedicated and experienced teams offer a wide range of multilingual solutions for domestic and global corporations in a variety of industries. With our expansive resources, you can take advantage of communication services on a global scale, creating, managing, and distributing your content in any format. You are welcome to contact us to request a quote for your language translation project.
Do you have a translation project and want to ensure that you receive top quality? We don't blame you and we're here to help! Check out our "Translation Checklist" to receive information that will help you organize your project, and ensure that you get a quality product!
Last Updated October-5-2016