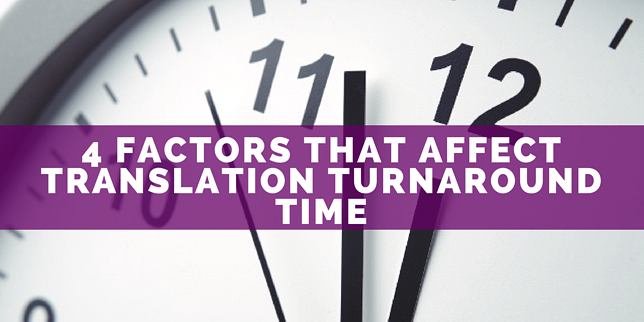 Many of our clients ask how long it takes to complete a translation. They want to be able to plan for the work; however, the answer is not that simple, as much as we wish it could be. There are multiple factors that affect the speed of human translation.
Human translation can be a very time-consuming process and speed of work cannot be used to gauge quality. The speed of translation is affected by several factors including, the quality of source, whether or not tools are being used, and the overall complexity of the source.
Difficulty of Project
Is the material technically complex, or is it marketing material that requires some transcreation? The complexity and scope of a translation project can greatly affect the speed.
For example, a document including manufacturing terminology or a manual outlining how to use a specific automotive part will require a translator with a history of experience in that specific background since that kind speech is generally not used in everyday conversation.
Because the terminology included in technical and complex translation is so specific, the translator must choose each word meticulously to ensure that nothing is lost in translation.
Also, the quality of the source material will factor into the time; if the source material is well written, then it will be easier for a translator to understand and translate it.
The complexity of the task can also depend on the number of questions the translator must ask, and the speed of the client's reply. For example, if a translator has many questions and relies on slow email exchanges to resolve them, you will have a slower turnaround.
Tools | Translation Memory
Any redundancies in the text can alter the time of translation. For example, if the translator can translate something once and re-use it within the document, he or she will be able to save time. The use of tools like translation memory or an automated glossary can be very useful. Be sure to ask your language services partner if they utilize such technology.
Target and Source Language
Some languages like Chinese, Japanese, Arabic, and Hebrew are more difficult to translate into due to the character sets and lack of target-language equivalents to the English source.
Certain language combinations may have different turnaround times so be sure to discuss with your partner to obtain a full understanding of how they calculate turnaround.
Formatting
Formatting also plays a major part when it comes to turnaround times. When a translator takes it upon himself/herself to format a document, the process of formatting can add substantial time to the completion of the translation.
Oftentimes, documents that require signification formatting (forms, brochures, anything designed in a program such as Photoshop, InDesign, etc.)
You must give the translator and the desktop publisher plenty of time to ensure a high-quality final product. This especially needs to be taken into account when foreign languages using different characters or a different text direction (left to right, right to left, top to bottom, etc) is being used.
About Interpreters and Translators, Inc.
iTi's dedicated and experienced team offers a wide range of multilingual solutions for domestic and global corporations in a variety of industries. Do you require translation services to enhance your global marketing and sales initiatives or interpreter services to communicate across languages? We specialize in custom language solutions and work with over 200 languages so regardless of the barrier you face, we will work together in synergy to bridge the gap to ensure success. Please feel free to contact us through a message or by calling 860-362-0812. Our offices are open 24/7/365 so we can respond immediately to your interpreting or translation needs anytime, anywhere
Almost ready to start a new translation project? Be sure to download our free checklist first by clicking here!
Last Updated November 1, 2017