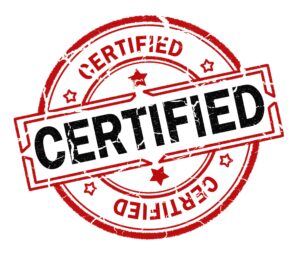 As you may know, certified translations are considered a specific type of legal translation. Typically, once a translation is completed, it is checked multiple times for accuracy before being presented to a notary public along with a statement from the translation company, guaranteeing that the translation is accurate and complete. While this seems straightforward, many people seem to have trouble determining when they need a certified translation and there is some confusion regarding what constitutes a certified translation. So, we have constructed this blog post to provide basic information regarding certified translations. Buckle in.
What Is A Certified Translation?
Though we explained this earlier, it is important and warrants a more detailed definition. Certified translations include both the original source document and the translated document, accompanied by a signed statement from the translation company's project manager, testifying to the accuracy of the translation. This bundle of documents is then notarized, fulfilling the requirements for documents that need a certification of accuracy.
Most respectable translation companies entrust certified translations with their more experienced and better-qualified translators, using an editor to proofread the final translations prior to certification.
Which Situations Require A Certified Translation?
Certified translations are almost always required for legal paperwork, especially for documentation used as evidence in trials or hearings. For instance, a trial transcript or any foreign language evidence would need to be translated and then certified.
When it comes to any item that has to be submitted to a legal or government body, it's likely that you will need to obtain a certified translation.
Immigration documents typically require certified translations. So, if you are planning on applying for a residency in a foreign country, you will likely need all documents to be submitted in the country's official language.
Do I Need A Certified Translation For Immigration Review?
If any of your documents aren't written in native English, you will need to get a certified translation. A certified translation for an Immigration review lets the USCIS know that the document is accurately translated, at least to the best of the translation company's knowledge. If anybody could translate these documents without authentication, any blame for mistakes would be directed at the immigrant up for review.
iTi | Professional Certified Translations
iTi puts full effort into making personal document translation easier for you. We strive to make the experience fast, easy, and 100% confidential. All you have to do is simply click on the "Get Started Now" button below to go step by step through our automated online system. Our 24-hour turnaround helps to keep the process simple and painless and the documents that are delivered to you are guaranteed to be accepted by any government agency.
Your order can be completed from any type of device, so no need to go back to the office to scan documents. Simply take a photo of the document and upload it from any handheld device. At only $100 minimum for a 2 page document and $50 per additional page, the investment is not going to break your bank! Click here to learn more.