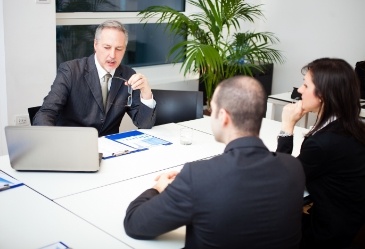 Most immigration procedures will require you to appear for an interview with an official from the United States Citizen Ship and Immigration Service (USCIS). To make the interview process as smooth as possible, it is best that you are prepared for your interview.
The tone, length, and depth of each interview depends on the USCIS official with whom you meet, so it is important that you prepare all documents to the best of your abilities.
USCIS does not provide an interpreter for your immigration interviews, whether it be for a naturalization or adjustment of status interview. So, if you are an applicant in a meeting with USCIS, you will need to provide your own interpreter.In this post we will discuss four tips for a successful Immigration Interview.
Hire A Professional Interpreter
Although we always recommend a professional interpreter, sometimes a person's financial situation does not allow for this. In these cases, some clients who need an interpreter for an interview bring a friend or neighbor; however, this is not the best option.
Any effort to hire a professional interpreter is worth it. If you want to ensure that your interpretation session is successful, you should invest in hiring a professional interpreter.
Even beginner interpreters might not fully understand some of the more nuanced aspects of language, like inflection, tone, and other abstract elements of the spoken word.
Professional interpreters are endowed with very quick reflexes, as well as a good memory, speaking voice, and will best convey your message.
Bring Your Certified Translations With A Copy Of The Original
It is best to have your documents ready to be submitted at the time of the interview. We typically recommend that you have a folder with your original documents and a copy of those originals.
Keep this in mind: making the process easier for the immigration officer will make the process easier on you.
Also, each time you translate a foreign language document, you will need to acquire a separate affidavit to be notarized. So it makes sense that you will save time by getting all of your translations completed and notarized at once.
We can prepare a certificate of accuracy to assure the format is correct and meets USCIS standards.
Plan Ahead And Leave Early For Interview
Be on time for your interview, no matter what.
We recommend that you arrive at your interview at least half an hour before the scheduled time. You can't predict when you will get caught in a traffic jam, and delays at the security coutner are common, so it is best not to take any chances.
Your immigration interview is one of the few chances you have to show the immigration authorities who you are as a person rather than as a collection of forms, documents and other assorted paper work.
Review All Documentation Beforehand
Though you may have hired an attorney to help prepare your case, your attorney is only presenting what you have provided him or her with as information.
Therefore, it is quite important that you review every single page of all of your applications, including supporting documents such as affidavits and photos.
iTi | CT Translation And Interpretation
iTi's dedicated and experienced linguists offer a variety of multilingual solutions for domestic and global corporations. You are welcome to contact us to request a quote for any of your immigration or translation needs.
Our immigration guide aims to provide helpful advice and tips, whether you are seeking personal document translation for the first time or you need courtroom interpreting. This guide will also attempt to answer the most frequently asked questions about translation.