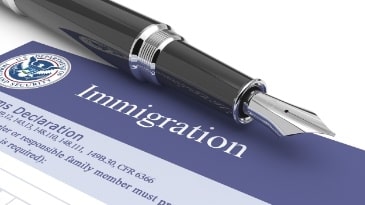 The journey to become a naturalized citizen is one of the most important and stressful milestones in an immigrant's life, and the process is not always easy: there are mountains of paperwork to diligently fill out, essential appointments to schedule, and detailed tests to pass.
In this post, we will discuss some of the most common translation mistakes people make when they are applying for U.S. citizenship. If you can manage to avoid these common mistakes for U.S. immigration applications, you will be able to save money, considerable time, and will be able to shed pounds of stress.
Submitting Documents In Native Language Without Certified English
Unfortunately, a large number of visa applicants fill out the immigration documents correctly; however, they assume that the U.S. immigration offices (USCIS) already has records of birth certificates, marriage licencse, and other necessary documents. While the U.S. Immigration Office are familiar with these documents, they receive hundreds of them every day, and they will not translate your documents for you. Some immigration applicants try to complete their own translation or they enlist the help of another person and submit the translation. This often leads to a rejected application, costing you time and stress. You need to have these documents translated and certified by a professional translator.
The CT translation company who translated your documents absolutely must attach a "Certification of Accuracy" document, in order to meet the USCIS requirement. This certification should be stated on corporate letterhead carrying the full legal name, address, telephone and fax numbers, signature of the translator or the person authorized to sign such certification.
To learn more about certified translations, check out our blog post, "Which Situations Require A Professional Certified Translation."
Misspelling Names | Wrong Date Of Birth| Differing Information On Documents
A name that is of Japanese, Russian, or Arabic origin will have different spellings in English. It is problematic if your first or family name is different in your passport compared with the translation of your birth certificate or marriage license. However, this does not mean that you should try to force the professional translator to translate your names as they appear in your passport. Remember: professional translation is word-for-word, without any addition, deletion, or interpretation. So, communicate with the translator during the very first translation to make sure that all of your documents are translated in a similar manner.
Poor Documentation | Losing Originals In Mail
Try to gather all of the original documents that you need for your immigration visa application far ahead of time. Also, check to make sure that you have all the documents and supporting information so that you can present them in a clear and organized manner.
We advise you against mailing the originals of your documents: imagine what you would do if the originals were lost in the mail. Be sure to keep one copy of every document that you send to USCIS or your immigration attorney if you have one. Use "Certified Mail" for all documents that you send by mail. Keep your receipts with the copies of your documents.
Providing Incomplete Information To USCIS
There are no exceptions: USCIS needs to have correct and complete information to successfully process your immigration application. So, you must fully and properly complete the various application forms. Do not guess or rely on your memory for anything of which you are not sure, and make sure that you do not leave any questions unanswered. Instead, if a question does not apply to you, write "N/A", which means not applicable.
All of the information on your passport or other immigration documents must match the information on your application.
Before presenting anything, we encourage you to double-check these fields for accuracy and completeness:
Your First Name
Your Last Name
Any Middle Initial
Your Date Of Birth
Your Place Of Birth
Your Country Of Birth
Unfortunately, any omission, purposeful or incidental, may cause a rejection of your application. If you are submitting any foreign documents in support of your application, you must submit a certified English translation of the document. This must be a full, word-for-word translation, not a summary.
iTi | Certified Translations For USCIS
iTi puts full effort into making certified personal document translation easier for you, whether it be birth certificate translations or a translation of your driver's license. We strive to make the experience fast, easy, and fully confidential.
All you have to do is simply click on the "Get Started Now" button below to go step by step through our automated online system. We have 24-hour turnaround, our documents are delivered to you, and we guarantee they will be accepted by any government agency.
At only $100 minimum for a 2 page document and $50 per additional page, the investment is not going to break your bank! Click here to learn more.