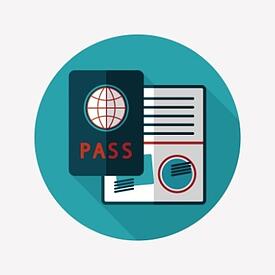 Immigrating to the United States can often be a stressful and enduring process, requiring great deals of patients and assistance from your family, friends, and a skilled translator. Fear of not meeting USCIS requirements, which can lead to potential delays or rejections of permanent residence requests, is enough to frighten most people into making sure they follow the appropriate guidelines.
USCIS requires applicants to translate certain foreign documents into English, so to help guide you through the process; we have created this blog post, detailing how to get your Immigration documents translated quickly and effectively!
Pick A Reputable Translation Company
Inevitably, you will need to request the services of a translation company that you can trust to accurately translate your personal documents. If you would like to have us translate your personal documents, you are in luck: we have made it easier than ever before to have your personal documents translated. With iTi it's fast, easy and fully confidential. Click here to begin.
One of the most important benefits to employing professional CT translators is the consistency of their work. One thing we know for sure: you will run the risk of a rejected USCIS application if you offer documents with inconsistent translation. A professional translator or CT translation team will work with you throughout the entire process, helping to ensure a consistency of term usage and communication.
Determine Which Documents Require Translation
First, find out which documents you will need to translate. Each page that you submit for translation will cost you more. The requirements for each application can vary depending on the region of the country that you live in. If you are unsure, go to the immigration website or take a few minutes to call and ask your caseworker directly. We can assure you that hiring a CT translation company is worth the negligible extra costs, and most companies will have a database of translators they can access for you on your behalf.
Birth Certificate Translation Requirements
Copies of birth certificates included along with certified birth certificate translations are mandatory for nearly every immigration filing. Several countries issue both short and long-form birth certificates. If you aren't sure which one you should submit to USCIS, consider this: your birth certificate won't be valid unless it includes your name, date of birth, place of birth, parent's full names, and a seal from the issuing office showing that it is a complete record. If for some reason your birth certificate is lost or unavailable, you may have to draw up affidavits for family members to sign and swear to your identity. If that is the case, the affidavits also will need to be translated in another language other than English.
What Is The Importance Of Obtaining A Certified Translation?
Admittedly, many potential immigrants are fluent in English and their native language, so why can't they perform the translations themselves? Unfortunately, there is no way around it: USCIS requires certified translations for all immigration documents, including as much supporting evidence as you can obtain. USCIS requires certified translations because they prefer the work of an unbiased professional translator who can have the translation notarized and be responsible for translating these important documents. This is serious: even the smallest omission of details or words could inevitably lead to questions, which can delay a green card case. So, if you are filing an application with USCIS, be sure to have your immigration document translation done by a professional translator, to avoid any set backs for processing time.
If you want to learn more about certified translations, check out our post, "Which Situations Require A Professional Certified Translation?"
iTi | Certified Translations For USCIS
iTi puts full effort into making certified personal document translation easier for you, whether it be birth certificate translations or a translation of your driver's license. We strive to make the experience fast, easy, and fully confidential.
All you have to do is simply click on the "Get Started Now" button below to go step by step through our automated online system. We have 24-hour turnaround, our documents are delivered to you, and we guarantee they will be accepted by any government agency.
At only $100 minimum for a 2-page document and $50 per additional page, the investment is not going to break your bank! Click here to learn more about our personal document translation services.