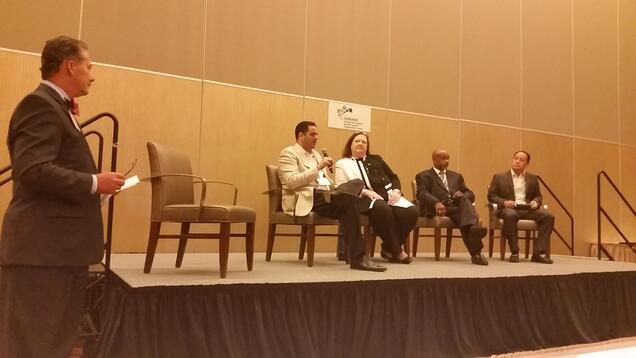 Left to Right: Ed Rodriguez, Francesco Pagano, Jamie Krump, Thomas Davis, Ted Hsu. Photo Credit Tom Ficklin, The Ficklin Media Group 
Mashantucket, CT, Connecticut – October 5, 2016 –Interpreters & Translators Inc. is excited and proud to have been a part of the Greater New England Minority Supplier Development Council's (GNEMSDC) 40th anniversary at the Foxwoods Resort & Casino! This exceptional organization has been instrumental in facilitating connections between Minority Owned Business Enterprises (MBE's) to corporations interested in further diversifying their supply chain throughout the New England area.
This event was an excellent avenue to obtain knowledge through the various workshops offered throughout the 2-day event and one on one meetings between corporate members & MBE's. But arguably most beneficial of all was the amazing networking opportunities presented for all parties in attendance. We would like to share some of our insights taken away from the conference about the potential of strategic partnerships and the endless possibilities presented by constant and consistent networking.
A Road Map to Developing a Strategic Partnership between MBE's and Corporations
iTi was fortunate enough to have our company President, Francesco Pagano, be invited to sit on a panel with three other veterans in their respective industries. The panel was titled, "A Road Map to Developing a Strategic Partnership between MBE's and Corporations". Other panel members included Jamie Krump, Director of Strategic Sourcing & Supplier Diversity, for United Rentals who brings 20 years of experience in sourcing and diversity to the table. Thomas Davis, VP of External Supplier Diversity, at Cartus Corporation is an active member of GNEMSDC. Ted Hsu represented MBE's as president of Horizon Services Corporation, a facilities maintenance contractor serving New England for over 20 years. The event was moderated by Ed Rodriguez, a former commissioner of the Latino & Puerto Rican Affairs commission and now president of Penmar Industries, Inc. a 47 year old business based in Stratford, CT. The panel offered various insights into forging these strategic relationship's, networking, growth accelerators, and fielding audience questions as well.
Laying the Foundation
The main theme for the conference this year was constructing the bridge between MBE's and corporations to the point that it can evolve into a true partnership as opposed to merely remaining a supplier. A supplier provides a basic transaction to a company, where as a strategic partnership entails working closely together, going above and beyond increasing a corporation's bottom line. To reach this level, a supplier must evolve their techniques beyond merely contract compliance. The pillars of a successful strategic relationship are trust and collaboration. A strong relationship can provide much value beyond simply price savings. A strategic supplier should keep a pulse on industry insights into what is coming around the bend, info on emerging sector technologies, and the ability to anticipate needs before they arise. Strategic suppliers are in consistent contact with their client and offer valuable insights to them. This slowly becomes a mutually beneficial relationship. With such a wide blend of companies in attendance it goes without saying not every match is suitable. One must dig to find a potential fit where a relationship could eventually evolve to this level of unquestionable competence. When the pieces do fall into place, the potential for both parties to enhance industry knowledge and capabilities is unrestricted in highly motivated hands.
Creating New Gateways
In addition to the logistics of a strategic partnership, there was also some great insights into networking tactics. The panel had some interesting anecdotes on the persistence of certain individuals, Jamie told of her inital meeting with Francesco who made it a point to introduce himself every year for 5 years. He remained unfazed by their initial meeting where it was stated that her organization had no need for his services. But after 5 years of consistency sure enough the need for this service eventually arose and that is who she thought of first. All this from simply making it a point to introduce himself year after year, some small talk, and a dash of luck. Building business relationships takes time, so try not to feel put down when sales don't come to fruitition immediately. Beyond business, like all relationships, partnerships develop over the years by getting to know the person, their family, hobbies, and interests. Nothing good happens overnight. The same proves exceptionally true in business. Here at iTi we are proud to have been a part of this event and highly look forward to next year!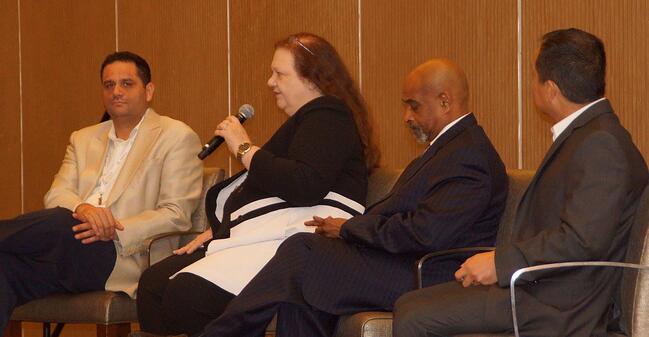 Left to Right: Francesco Pagano, Jamie Krump, Thomas Davis, Ted Hsu. Photo Credit Tom Ficklin, The Ficklin Media Group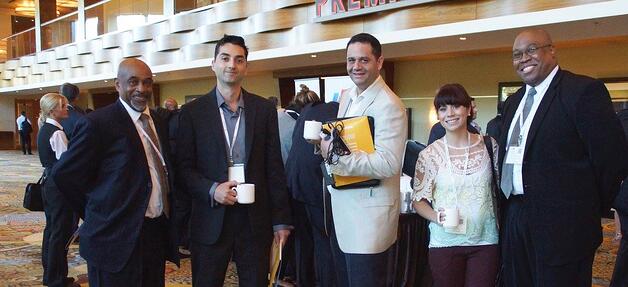 Left to Right: Thomas Davis, Anthony Toronto, Francesco Pagano, Annie Pagano Photo Credit Tom Ficklin, The Ficklin Media Group