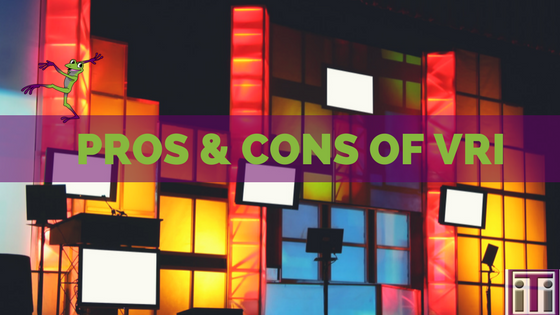 When interpretation services are needed there are occasions that are better for video remote interpreting over other modes of interpretation. The article below will describe the pros and cons of video remote interpreting.
Pros 
According to Registry of Interpreters for the Deaf, Inc., successful video remote interpreting (VRI) sessions use qualified spoken language and/or sign language interpreters who are experienced in specific areas of expertise and follow professional interpreting standards.
Successful VRI sessions have shared understanding of the benefits as well as the limitations of VRI, common elements of established meeting preparation protocols, training regarding equipment and video conferencing protocols, effective environmental controls, and compatibility of technical set-up and connectivity.
Last Minute Needs 
Occasions may occur when interpretation services are needed at a moments notice. With video remote interpreting available, you can connect with a certified professional in less than a minute.
Certain locations such as hospitals, benefit from video interpreters because they are able to connect with someone who can effectively communicate with a patient. This can also help the doctor better understand any issues to give a proper diagnosis. During these situations it's important to be able to connect with someone who fully understands the language and is able to communicate that information back as well.
Trained Professional Interpreters
It's important to have a professional communicate to correctly break down the language barriers and avoid miscommunication issues. For example, a medically trained interpreter will more than likely have an advantage in a medical setting over a randomly selected emergency interpreter who just happened to live in the area and be on call. An ineffective interpreter can offend the person needing it and in the medical setting, can be harmful to ones well being.
Cons 
Disconnection
Instant connection through technology can be a pro but relying on technology can also be a downfall. Video remote interpreting relies on a high-speed wireless internet connection. Losing the connection can cause confusion and if you have to constantly try and reconnect your organization can lose credibility. A bad connection may also lead to having to reschedule which in some circumstances, may not be an option which leaves you scrambling to figure out what to do next.
Vision Limitations
When there are multiple people who need interpretation, VRI may not be the suggested choice. Vision is limited and can be difficult to spot each individuals needs in large groups. This can be especially difficult if there are multiple levels of interpretation needed. Some people may understand signs or words differently then the person next to them. Also, if in a larger group, someone may feel left out, causing an ineffective process.
Distracting Atmosphere
The hard part about video interpreting is being able to control the environment from any distractions. When last minute interpreting is needed, it can be difficult to control the environment the VRI is held in. There can be multiple things in the background that distracts the interpreters as well as the people who may need interpretation.
Need VRI? iTi has more than 10,000 linguists, and interpreters that service more than 250 languages available 24/7/365.  Click below to get started today!
About Interpreters and Translators, Inc.
iTi's dedicated and experienced team offers a wide range of multilingual solutions for domestic and global corporations in a variety of industries. Do you require translation services to enhance your global marketing and sales initiatives or interpreter services to communicate across languages? We specialize in custom language solutions and work with over 250 languages so regardless of the barrier you face, we will work together in synergy to bridge the gap to ensure success. Please feel free to contact us through a message or by calling 860-362-0812. Our offices are open 24/7/365 so we can respond immediately to your interpreting or translation needs anytime, anywhere
Last Updated March 29, 2022