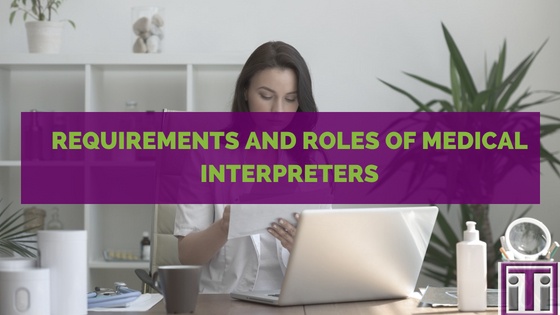 Professional medical interpreters play a vital role in providing high-quality care to Limited-English Proficient (LEP) patients, yet many healthcare providers are unaware of what an interpreters' actual role is. Or the code of ethics they must follow. How can you expect to employ a successful language access program if your team doesn't know how to work with the interpreters tasked to facilitate communication?
Throughout this article, we will shine the light on various organizations that work to constantly raise the bar for professional interpreters, the code of ethics and standards of practice they are held to, what they can and cannot do while on the job, and more.
If you work in the healthcare industry and expect to work with an interpreter at sometime, keep reading to learn about how to be the most effective so you can provide the best level of care.
Code of Ethics and Standards of Practice
The National Council on Interpreting in Health Care (NCIHC ) is a "multidisciplinary organization whose mission is to promote and enhance language access in healthcare in the United States." NCIHC and the Certification Commission for Healthcare Interpreters (CCHI) are the two industry-leading organizations that set the standards of practice for medical interpreting.
Below is an excerpt from the Code of Ethics for Interpreters in Health Care which outlines the type of behavior providers should expect when working with an interpreter.
Along with the Code of Ethics, interpreters are also bound by the National Standards of Practice for Interpreters in Health Care. The Standards of Practice were developed to provide necessary guidelines for improving the training of healthcare interpreters, helping to raise the quality and consistency of interpreting.
These standards discuss:
Accuracy
Confidentiality
Impartiality
Respect
Cultural awareness
Role boundaries
Professionalism
Professional development
Advocacy
Just as it is important for interpreters to deeply understand the healthcare field, likewise, in order for interpreters to do their jobs to the best of their abilities, it's important for medical providers to understand exactly what the interpreters' roles are. In turn, you will be providing the best quality care to your patient through effective and clear communication.
Requirements of Medical Interpreters
Professional medical interpreting requires both mastery of the target language and a general proficiency for all verbal communications. Mastery of healthcare terminology is more than the  translation of words. Interpreters must have the ability to define these terms in their original language (the source language) before being able to interpret fluently and accurately in your target language.
Medical interpreters do and can conduct occasional oral translations or sight translations. It can be helpful to have the interpreter you're working with read a prescription out loud, signs on a door, or notices. However, you should not expect interpreters to produce lengthy written translations for medical studies or articles.  That's another specialty.
Option To Build Internal Capacity
While healthcare facilities need to find a reliable translation company with certified or qualified interpreters to ensure accuracy and understanding of all sides of a conversation, they also have the option to train their own bilingual staff members on becoming interpreters. Effective medical interpretation helps build bridges to better healthcare.
Bringing It All Together
We'll leave you with this final concise list that describes interpreters roles. What they can and cannot do, what to do and what they should not do.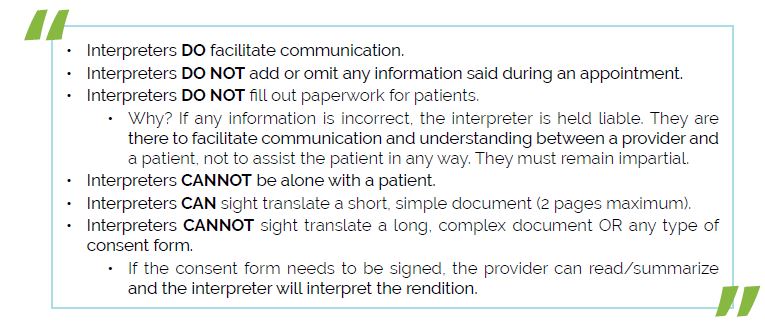 Effective high-quality care to LEP patients is possible and actually quite easy when you work with the right interpreter. First and foremost, be sure to use a professional from a reputable agency. Understand the learning curve to working through an interpreter and soon enough you will barely notice you're speaking different languages.
iTi | Medical Interpreters
The dedicated experts at Interpreters and Translators, Inc. have extensive experience with implementing language access solutions for healthcare systems. We are HIPAA compliant and guarantee full confidentiality with every interaction between our organizations. We work with qualified and certified medical interpreters and all translators have extensive medical translation experience. You can rest easy that nothing with ever be lost in translation when you work with team iTi.