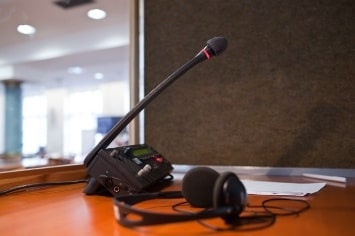 Interpreting exists in many forms, whether it be simultaneous, telephonic, or consecutive. But this does not help you determine which style of interpreting is appropriate for your next event or meeting. If you are communicating with foreign clients, arranging a meeting with a contact from another country, or are attending a conference without the ability to speak the language, you need an interpreter.
This is the simplest way to explain the difference between consecutive and simultaneous interpretation:
Consecutive Interpretation: The interpreter talks after the speaker has paused, allowing the interpreter time to process and translate from the first language to the second.
Simultaneous Interpretation: Without pauses, the interpreter speaks at the same time as the original speaker.
When Is It Best To Use Consecutive Interpreting?
Consecutive interpreting is typically used for one-on-one meetings, and works best when applied to these formal and informal occasions:
Court depositions

Client-attorney meetings

Medical consultations

Interviews

HR meetings

Parent-teacher conferences
When Is It Best To Use Simultaneous Interpreting?
Simultaneous interpreting requires at least two interpreters as well as interpreting equipment. The interpreters may work from a booth that either is or isn't in the same room as the speaker. Simultaneous interpreting is typically used for more formal settings, where one speaker is presenting for an audience, rather than in a conversation. Usually, situations requiring simultaneous interpreting include:
Speaking For a Conference

Foreign Business Conventions

Training Sessions & Tours

Lectures & Presentations
Note: Simultaneous interpreting practices often require specialized equipment, like wireless receivers, headsets and microphones, to relay messages to a large audience in a timely manner.
Is One Method Better Than The Other?
If you are attempting to decide whether to use the consecutive or simultaneous mode of interpreting for your next event, consider the impact of these two styles. A consecutive interpreter has more control over the situation, as they can clarify ambiguities and ask for repetitions if they have a hard time understanding the speaker. On the other hand, simultaneous interpreting can save time, especially within courtrooms, where people can speak for long periods of time.
iTi | Connecticut Interpreting Services
iTi's dedicated and experienced teams offer a wide range of multilingual solutions for domestic and global corporations in a variety of industries. With our expansive resources, you can take advantage of communication services on a global scale, creating, managing, and distributing your content in any format. You are welcome to contact us to request a quote for your language translation project.