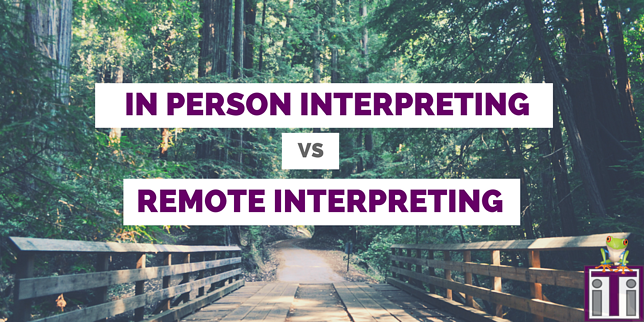 During this day and age, language services are likely to be essential to the success of your business. With instant global communication, increased cultural diversity, and the technology easing the ability to do business across borders, translation and interpreter services are more necessary now than they may have been before.
Within the world of interpretation services, there are a variety of different types: face to face interpreting, telephone interpreting, and video remote interpreting. Which one is best? This question comes up a lot and the short answer is that each type of interpreter service has its own distinct set of advantages and disadvantages.  And each is not the best option in other situations. Continue reading for a comparison of in-person interpreting, telephone interpreting, and video interpreting.
Advantages Of In-person Interpreters
When possible, in person interpreting is by far the best option. When interpreters are physically in the room they can do a much better job of reading body language and facial expressions. All of us communicate as much or more with our body than we do with our words. In person, the interpreter can pick up on things like when the speaker is confused or has a question or needs further explanation. Recipients have reports to be much more comfortable having an interpreter physically in the room and the interpreter helps to build rapport between the recipient and client. There are few potential barriers to communication if the speaker, the listener and the interpreter are all in the same place.
Video Interpretation Saves Money Or Time
So why not always use in person interpretation? It's not always possible and not always affordable. If you're stuck somewhere without a professional interpreter nearby you may need to go with telephone or video interpreting. Video remote interpreting is a great solution for emergency situations such as an Emergency Room at a hospital.
Cost can be a factor, too. You'll pay more to have a professional interpreter travel to your location. It's more convenient for the interpreter to work with you over a phone or through video.
Video will produce better interpretation than telephone interpreting because the interpreter does have a visual connection with the speaker. Some facial expressions and some body language can be interpreted when the subject is on screen. But a disadvantage with video is the equipment. You may not have the right equipment to set up a clear video and audio connection. Even with the proper equipment, internet connectivity can pose problems at times. And, in general, video interpreting will cost you more than telephone interpreting.
Telephone Interpreting's Greatest Advantage
The greatest advantage of telephone interpreting is speed. Phones are accessible everywhere. In an emergency or when you need immediate interpretation, a phone can get you connected to an interpreter literally within seconds. Some language service companies, such as ourselves, pride themselves on being able to provide you with telephone interpreting in any language in under 15 seconds. Now that's service!
Situations in which you're better off choosing telephone interpreting rather than in-person interpreting include:
When both parties (patient and provider) are already communicating via telephone
Face-to-face interpreting is not a practical option when the primary interaction is taking place via telephone. With the rise of telemedicine and a variety of other telephone services, these situations are increasingly common. For example, when people call appointment lines, advice lines, and other numbers for service over the telephone, telephone interpreting is the best option.
When it's better not to have another party in the room.
Depending on cultural, religious and individual preferences, some people may prefer not to have another person physically present in the room, especially when discussing personal, legal or health issues.
Remember, too, that whether you choose video, telephone or in-person interpreting always use a professional interpreter. Professionals are trained to follow proper ethics, keep confidentiality, use culturally appropriate communication and more.  Many studies have proven that professional interpretation, especially in critical situations like a legal or healthcare setting, delivers much better results.
About Interpreters and Translators, Inc.
iTi's dedicated and experienced team offers a wide range of multilingual solutions for domestic and global corporations in a variety of industries. Do you require translation services to enhance your global marketing and sales initiatives or interpreter services to communicate across languages? We specialize in custom language solutions and work with over 200 languages so regardless of the barrier you face, we will work together in synergy to bridge the gap to ensure success. Please feel free to contact us through a message or by calling 860-362-0812. Our offices are open 24/7/365 so we can respond immediately to your interpreting or translation needs anytime, anywhere