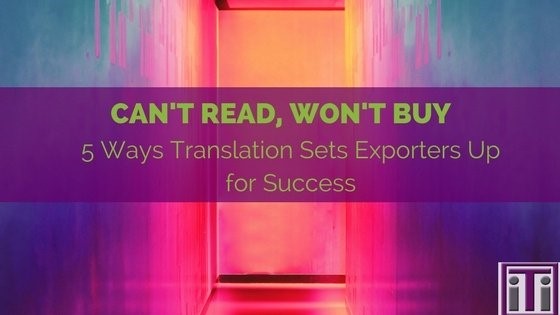 Manufacturers of all sizes are progressively seeing the benefits of exporting. With increased competition from foreign companies and local markets becoming saturated, many are finding the best growth strategy is often to look outside our country's borders.
Exporting and selling internationally is no easy feat but, then again, is anything in business ever easy? It's challenging, yet highly rewarding, both personally and financially.
It's easy to get excited about the possibilities and opportunities presented when you begin an export strategy. There are many details that must be accounted for. One of the most important details in the process is often left as an afterthought: Language and communication.
Ask any business owner, executive, manager, or customer service representative of any company of any size what one of their largest challenges is and it's guaranteed the answer will be "communication."
It doesn't matter whether we're talking about internal or external communication, it's crucial that all parties involved are on the same page when it comes to strategy and execution.
Now consider how communication challenges arise when you add another language into the picture.
Hopefully, you are beginning to see how crucial effective communication across languages and cultures will either bolster your new export strategy or seriously impede it.
Languages of the Internet
While it's true that English has become a language of business across the globe, that doesn't mean we should expect everyone to speak English fluently or communicate solely in one language.
Even if they do speak some English, research shows that a majority of people use the internet in their native language. While English is the top language used on the web, it only accounts for roughly 25% of total internet users.
That means that 75% of the 7 billion+ internet users worldwide are searching in languages other than English!
Why would you isolate 5+ billion potential customers by only offering information and conducting business in English?

Can you afford to overlook these valuable leads?
Let's take India as an example; a very popular emerging market.
India has 22 official languages and, according to the Census of India, of the 1,652 languages spoken around the country, roughly 150 languages have a sizable speaking population.
This doesn't mean that you need to translate all of your content into all 22 languages, but it is a good business practice to be aware of the cultural context of the market you are entering.
Language gives you an insight into the culture and, once you understand the culture of the market, you can make a strategic decision on which languages to pursue.
Rising Expectations
In the digital age we live in, consumer expectations continue to rise. They have a world of content at their fingertips and they do a lot of research before making a purchase.
Moreover, purchasing habits have changed drastically over the past year and a half, perhaps for good. A recent report from the Harvard Business Review detailed how consumers are shopping online 43% more often for products they previously would have purchased in stores.
Even if you are B2B, you can guarantee that the customers you are targeting are completing their due diligence before purchasing a product, especially if they are ordering in large volumes.
You need to make sure your company shines brighter than the crowd and translation is one way to do so.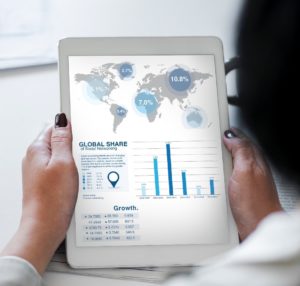 How Translation Sets Exporters Up For Global Success
Translation creates a competitive advantage.
More and more businesses are realizing that translation is much more than 'just another cost'. It's the lifeblood of any international business strategy!
Furthermore, it can create a competitive advantage for your brand. If your competition doesn't provide their content (website, blog, product descriptions, sales and marketing materials, etc.) in the market's native language or provides a haphazard translation, they are likely to move on quickly.
You will stand out among the crowd by translating and localizing your website and printed content. Localization is the process of taking content and adapting it to a new demographic/culture.
This includes not just written content but also visual content such as color schemes, image selection, currency conversion, and payment options.
The key is to find a way to make your product relatable to your buyers while maintaining your brand identity.
Switch up your mindset when it comes to export strategy and international growth – translation can be your largest asset in breaking into new markets! It's an essential piece of any global strategy and needs to be factored in early on in the business planning process.
Translation Builds trusting relationships.
An important aspect of any export strategy is getting boots on the ground in the new market to identify potential prospects and strategic partners.
Whether in person or online, a multilingual communication strategy will help to build rapport with the new market you're targeting. Of course, some people may speak English but many may not!
People appreciate those who make an effort to speak their language. You can learn a few local phrases or have a support system in place such as an over-the-phone interpreting account which gives you access to interpreters in over 250 languages in less than 30 seconds.
Hiring an in-person interpreter can be a great solution to help you navigate both linguistic and cultural barriers until you identify a bilingual partner or decide to hire local employees.
Think of the opportunities and connections you may be missing if you limit yourself to just one language. Languages connect cultures so use language to your advantage to connect to your new customer base.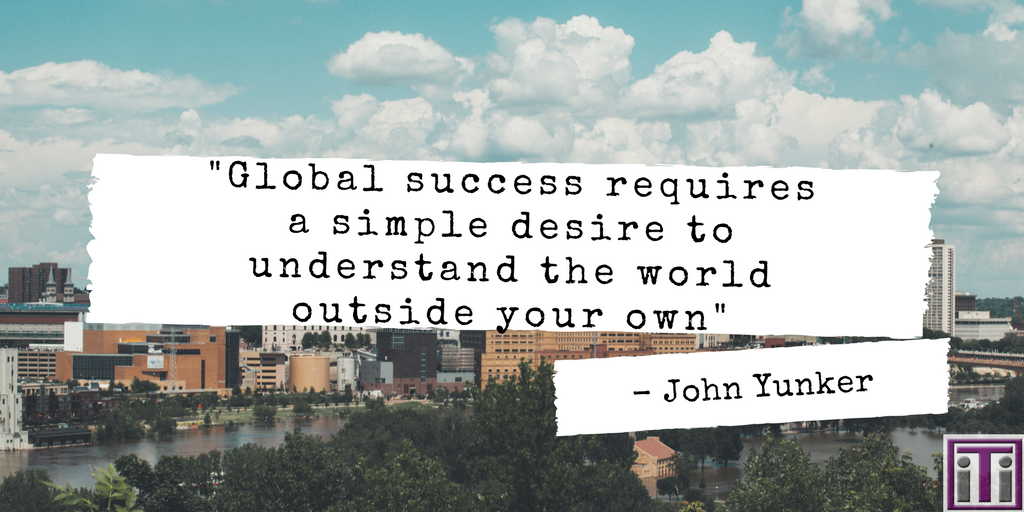 Translation expands your digital footprint through a multilingual marketing strategy
It's no secret that a majority of people go straight to Google (or their local country equivalent) to research a company. If your website isn't translated into their local language, how can you be sure that your message is understood? Or if you're being found at all?
As mentioned in point #1, website translation and localization is essential to appeal to customers on a local level.
Because most manufacturers don't sell products directly through their website and are selling to other businesses, they assume that their website and digital strategy isn't going to make or break a deal.
Just because you aren't a B2C company, it doesn't mean you can ignore the power of a website. Your website still showcases products and don't you want those product descriptions and compelling stories about your company to be understood by prospects? Your website needs to be adapted to new foreign markets. Details such as currency conversion, metric conversion, times, dates, temperatures, etc. are of extreme importance.
You don't necessarily need a fancy re-brand but you do need to be aware of cultural frameworks and how you can build the best reputation possible within those frameworks.
Legalities – Decrease Your Stress, Leave it to the Professionals.
Exporting and working across borders comes with a lot of rules, regulations and….paperwork.
There's export documentation, packaging requirements, contracts to be signed, spec sheets, etc. While you may choose to work with a local partner on small translations, trust us and leave the technical, legal translation to the professionals.
These areas require an expert translator who specializes in legal or technical documentation. They are trained and well-versed in the industry terminology and their whole career is focused on these areas.
Ultimately, leaving legal and technical translation projects to professional translators will increase efficiency. By relying on an employee or partner to handle translations, you are taking away time for them to work on their specialty. And you won't be guaranteed that the translation is accurate and up to government standards.
It's best to always use a professional translation service for legal and technical paperwork to ensure a timely turnaround time and accuracy in translation.
Translation improves the customer service experience.
Customers appreciate information being available in their native language and, more importantly, they expect to be able to talk to a representative in their country's language.
This is especially crucial for those firms selling directly to customers. Customers may call for support after a sale has been made and will expect to communicate in their common language.
Even if you are selling to other manufacturing firms as a component part, you never know who within your client's organization may call for service after the sale.
Be prepared to have support staff to handle these phone calls or emails. As partnership with a trusted translation services provider will include a consultation to determine the perfect mixture of services.
A Holistic Global Strategy
An export strategy is an exciting endeavor and, when executed correctly, will greatly increase your revenue and market share.
Preparing to conduct business in a foreign country requires both an understanding of the business climate and the culture that exists among the population. People won't buy what they can't understand so speak your customer's language.
Hiring local talent is ideal but not always feasible, especially in the beginning. Do your due diligence and identify a translation services provider that has experience in providing global solutions.
Seek a language service provider that focuses on a communication solution to support a global business instead of one that works project by project. Manufacturers looking to export need linguistic support on all levels – from in-person interviews and meetings, to phone calls, to email correspondence and marketing/sales materials.
Include language and communication in your initial business plan and you're sure to see a higher return on your investment, along with a more rewarding personal experience from a true immersion into a new culture.
Interested in more information on translation for manufacturing? Download our free guide
*CTA: Manufacturing marketers guide to translation services*
About Interpreters and Translators, Inc.
iTi's dedicated and experienced team offers a wide range of multilingual solutions for domestic and global corporations in a variety of industries. Do you require translation services to enhance your global marketing and sales initiatives or interpreter services to communicate across languages? We specialize in custom language solutions and work with over 200 languages so regardless of the barrier you face, we will work together in synergy to bridge the gap to ensure success.
This blog was updated for freshness and relevancy on 8/24/21