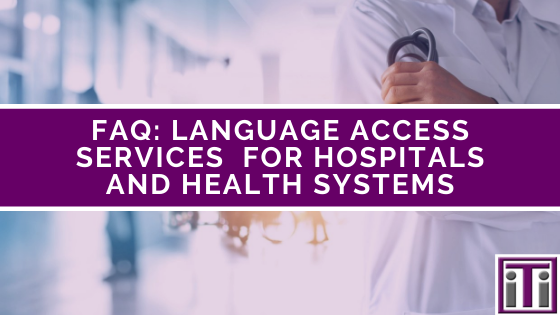 iTi has been serving hospitals and health systems across the northeast and the nation for more than 30 years. From family practices to eye doctors, to mental health hospitals, to multi-state healthcare systems, we've seen, done, and heard it all! So, we decided to make a list of the most frequently asked questions we hear from receptionists, nurses, doctors, patient relations departments, and hospital executives.
This is a one-stop-shop page to make your life easier. Be sure to bookmark this page in case you need to return to it! One thing to note is every language service company operates differently. We hope the information we provide can help you in your evaluations to determine how well-equipped a particular LSP is to serve your organization.
Looking for more information on creating a language access program? Check out: Sustainable and Scalable Language Access Programs For Hospitals
General Healthcare FAQs
Are healthcare providers required to provide language services?
If your facility receives federal funds, it is legally required to provide language services. Title VI of the 1964 Civil Rights Act states: No person in the United States shall, on the ground of race, color, or national origin, be excluded from participation in, be denied the benefits of, or be subjected to discrimination under any program or activity receiving federal financial assistance.
You might be wondering: But, it doesn't mention anything about language! The phrase "national origin" is key here. "National origin" in this context is important because it is included in the wording in order to protect the language spoken in a person's native country.
Additionally, in August 2000, President Clinton drew national attention to the issue of limited English proficiency when he issued Executive Order (EO) 13166, Improving Access to Services for Persons with Limited English Proficiency. EO 13166 reiterates Title VI requirements.
How do I set up a language services contract?
Identify language services companies that specialize in serving the healthcare industry. Evaluate them all and decide which is best suited to serve your organization. We consult heavily with our prospective healthcare clients to ensure that we are a good fit. We work out many technical and logistical details before a contract is ever signed.
We highly recommend using just one language service provider (LSP) to serve your organization. Sure, you can use one vendor for translation, one for in-person interpreting, one for ASL interpreters, etc. But if you want to best control your costs while receiving the highest quality service and care, it's best to go with one provider that can do it all.
Will you support our hospital in implementing the language access plan? What does implementation look like?
Absolutely! Part of what sets us apart is that we work extremely closely with hospitals and health systems throughout every stage of implementation. We don't want to just sell our services, we want to integrate them into your organization so they are easily accessible. Furthermore, we provide staff education and training on not only how to best use the services but when to use each service, how to work with interpreters, and how the services support them in doing their job.
Our implementation looks different for every organization. For some, it may take weeks, others months. We assign a dedicated team of employees to manage implementation in accordance with a "Lean Six-Sigma" foundation.
Are interpreters and translators subject to background checks?
At iTi, yes, all of our linguists undergo background checks prior to being hired. We do not hire interpreters who don't adequately pass a background check.
Interpreter Services
What's the difference between Video Remote Interpreting (VRI)  and in-person interpreting?
Video Remote Interpreting has been around for years, but its use exploded during the pandemic. It is a great service that connects an off-site interpreter with the client and the Limited English Proficient individual via a secure, encrypted video connection (think Zoom, Google Meet, Microsoft Teams).  It is quick and easy: however, a strong Wifi signal is a must.  VRI can be either pre-scheduled or on-demand.  Meanwhile, in-person interpreting involves an interpreter traveling to the same location as the client and person in need of interpretation.
How much lead time do you need for in-person interpreter services?
While we prefer as much lead time for interpreters as possible, we understand that last-minute needs arise. We are able to provide an in-person interpreter with as little as a 1-hour notice. In the case of an emergency or if an in-person interpreter isn't available, we suggest using an over-the-phone interpreter or video remote interpreter.
What's better: In-person or Video Remote Interpreting?
When practical, in-person interpreting is still the better option.  You simply cannot replicate the quality of communication that comes with an interpreter being in the same room. There is no delay or confusion over what is said because, as great as technology is, it can be finicky at times. Body language is a huge component of communication and it's much easier to read when the person is in the same room. What's more, a patient is more at ease when the interpreter is in the room; it gives them more confidence in the situation.
Is Video Remote Interpreting (VRI) HIPAA Compliant?
Yes. All communication and client information is treated with extreme sensitivity. We have the following measures in place to ensure full confidentiality:
On-site server room designed to meet Department of Defense standards
Encrypted communication including video, phone, email, SMS, etc.
Confidentiality agreements with all linguists
Do we have to purchase any equipment for interpreter services?
Not necessarily. You most likely have equipment that you can re-purpose for video remote interpreting or maybe you have some dual-handset phones. Over-the-phone interpreting and video remote interpreting are integrated into one platform so you no longer need to worry about hunting down multiple devices. Our team will work with you to assess what you have that can be used and develop the best-suited solution.
Can we just use a bilingual staff member for interpretation?
If they have had their language proficiency tested and are trained as a Qualified Medical Interpreter, yes. However, many times this is not the case. If they have no training as a medical interpreter in the language you are asking them to interpret, it is dangerous to use them as it can open you up to malpractice lawsuits and civil rights lawsuits. We understand that sometimes you need someone quickly but, if you aren't using a trained professional, you are putting patient safety at risk.
How do I access an over-the-phone interpreter?
If your hospital uses dual-handset phones for over-the-phone interpreters, always know where the phones are stored. It's important to know how to access language services so you can take action when the need arises. iTi dual-handset phones are pre-programmed for your convenience so that all you do is press one button and then request the language you need. We can also provide splitters and additional handsets to turn any telephone into a dual-handset device.
What type of training do you provide for our employees? In-person or online?
Training will be conducted both in-person and online. Training is conducted on a regular basis. iTi's Program Manager will train staff members in any mode (in person or online) as requested.
Our past experience with implementation has been to provide in-person training for all managers/staff members. iTi will then assist trained staff members train their employees online using the services. This process will be coordinated and scheduled in writing prior to implementation.
Document Translation
I have a document that I need translated, how do I get it over to you?
You can upload documents to our secure FTP portal. You can also send them via encrypted email, or we can set up an integration with your ERP system of choice.
What's the typical turnaround time for a translation project?
Turnaround time depends on the length and formatting complexity. Most 1-2 page documents will be completed in roughly 24 hours.
Can we use an untrained bilingual staff member to translate small documents (prescriptions or follow-up care instructions)?
Never! Medical translation is a very technical and specific skill set. A nurse may be medically trained in English and say she speaks Spanish, but is she proficient at written Spanish? Does she know medical terminology in Spanish? Don't risk a patient's health and safety to save a few bucks.
Do you have any other burning questions that we didn't address? Leave them in the comments and we'll get back to you ASAP!
This blog was originally published on 7/18/18 updated for freshness and clarity on 08/17/2022