This post was originally published on January 25, 2017 and has been updated and expanded for freshness.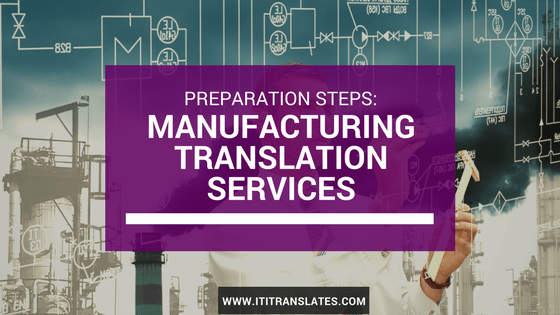 Here's the deal:
We live in a diverse global environment and our businesses operate in a multlingual world. It's time to stop viewing translation as a burden and see it for what it really is – an investment and competitive advantage.
Now:
Heavy competition in the global manufacturing sector has altered production processes, leading to a more modernized and automated process, bringing with it shorter product life cycles and increasingly rapid technological advances.
Of course, this rising growth of production has increased content volumes to support new products on a global scale.
Whether you are exporting products internationally, are sourcing materials from different countries or submitting bids to foreign governments, it's clear that manufacturers must be able to provide localized content at a quicker pace than ever.
The list of potential materials a manufacturer may have to translate is long. It includes:
Safety manuals
Business communications
Conference and trade show materials
Installation, operator and maintenance manuals
Human resources (employee) manuals
Environmental, health and safety information
Service manuals
User manuals
Standard Operating Procedure (SOP) manuals
CAD drawings
Meeting minutes
Packaging
Work processes
Service agreements
Regulatory documentation
Patents
Presentations
Business contracts
Technical e-learning modules and manuals
Marketing materials (like websites and print catalogs)
You may still be asking:
Are translation services really that important?
Yes. Let us explain why:
Clear and accurate translations are a way to improve customer service and production quality. This is not the area in which to rely on your own in-house personnel to translate key documents.
Often employees are asked to translate as an add-on to an already full work load. The employees may speak the required languages but they're rarely trained professional translators.
As a translation agency, we have seen manufacturers use their own skilled engineers to translate. These engineers must take time from their daily responsibilities to translate manufacturing documents. This is not cost-effective and it almost always leads to unreliable translations.
If you're a manufacturer with complex products, you can only compete in the global marketplace with fast, accurate and reliable translations. Those translations must be both localized and  in strict compliance with your industry's standards.
Focus, time management, and quality content are essential for the success of manufacturing translation projects; however, it is not easy to stay focused with these projects, as most manufacturing projects are incredibly detailed. Timelines are quickly condensing and pressure is rising to provide a high quality product and responsive customer service.
What should manufacturers focus on if they want to ensure that they release successful translated materials?
Questions To Evaluate The Translation Process
When your manufacturing company considers translation services, it is well worth it to take the time to find the best service and translation services provider for your needs.
Consider these and other factors to ensure the success of your translation project:
Will all manufacturing translations be performed by subject matter experts and linguists with extensive industry knowledge?
Will a professional project manager ensure your materials are accurately translated, delivered on time, and handled with care and confidentiality?
Does the translation firm have a reputable record of success using the languages that your materials will be translated into?
Has the translation firm worked with other companies in your industry and on similar projects?
Will your translated material be compared with the original text for cultural context, accuracy and tone?
Will the work of the primary translator be checked and proofread by a qualified secondary translator of equal skill?
If sensitive or copyrighted material will be translated, does the translation company guarantee high standards of data security and strict confidentiality?
Does Your Project Involve Specialized Knowledge?
If your project requires specialized knowledge or experience, be sure to use a translator who has that knowledge or experience.
Seems like a no-brainer, right?
In a manufacturing setting, you will want a translator who is familiar with maintenance manuals, operation manuals, repair manuals, instruction sheets, MSDS (Material Safety Data Sheets), training materials, online help files, IFUs, labels, safety decals, contracts, installation guides and more.
Many translators earn certification in a specialty such as medical or marketing and advertising materials. The more technical your subject is, the more important it is for your translator to be up to date on the issues and specialized language involved.
Lastly, just as "language services" is a broad term, a translator with experience in "manufacturing" translation isn't necessarily the most knowledgeable in your specific niche.
It's also important to keep in mind that different projects such as a legal contract and a sales sheet may require different translators so you will want to be sure that the translation firm you decide to work with is flexible and understanding of your organizations specific needs and goals for the future.
Ask for references and follow up on them. Speaking with a translation agency's clients will give you the most accurate snapshot of what it may be like to work with that organization.
What Type of Translation Technology Will Be Utilized?
Translation memory tools make the translation process more effective and cost efficient by streamlining the translation process.
You might be wondering: How exactly does it work?
Every time a document is translated, translated words, phrases, and even complete document sections are stored in a database.
When those words and phrases appear again, the stored translation is presented to the translator for review.
The more content translated, the more valuable these stored translations become.
Once you choose the translation agency you want to work with, it's a good idea to speak to them about creating a glossary.
There are many terms and phrases that are industry- and company-specific. Most translation providers will work with clients to develop the best suited translation of each term/phrase.
Typically, the translation agency will offer options and, if you do not have a bilingual employee to assist with choosing the best fitted translation for any given technical term, they will perform a back translation and explain how the translation for that term was chosen so that, moving forward, the terminology will remain consistent.
What's the bottom line?
Coupling a pre-defined glossary with translation memory is an effective method for minimizing costs, shrinking timelines, and ensuring consistency. For the countless technical terms present throughout various materials, translation memory and glossaries are life savers!
For Marketing Materials – Understand Your Buyer Personas For Localization
Even when a common language and culture is shared between a group of people, people will tend to speak differently depending on their age, gender and specific location (you may recognize this even from being a native English speaker). So, in order to successfully reach your target market, you first need to identify as many defining characteristics as you can.
Attempt to understand exactly where, how, when and by whom your product is likely to be used by. The more you can come to understand your buyer personas, the easier it will be to support a strong localization campaign. Sharing this information with your translation services provider will support them in producing the best quality translation for your target audiences need.
Set Yourself Up For Success
We hope you found this information on translation services for the manufacturing industry useful!
The bottom line is:
You're going to have to translate some type of document at some point in time. Embrace it! If you need translation services, you must be growing and expanding so congratulations!
Translation is an investment in your company, its products, your brand and reputation. Identify what you need translated, into what languages, and work with an experienced translation agency to support you in your goals.
Would you prefer to view the information we discussed in an easy to follow checklist? Click here to download our translation services checklist for manufacturers!